---
Freelancer web designer vs Web design company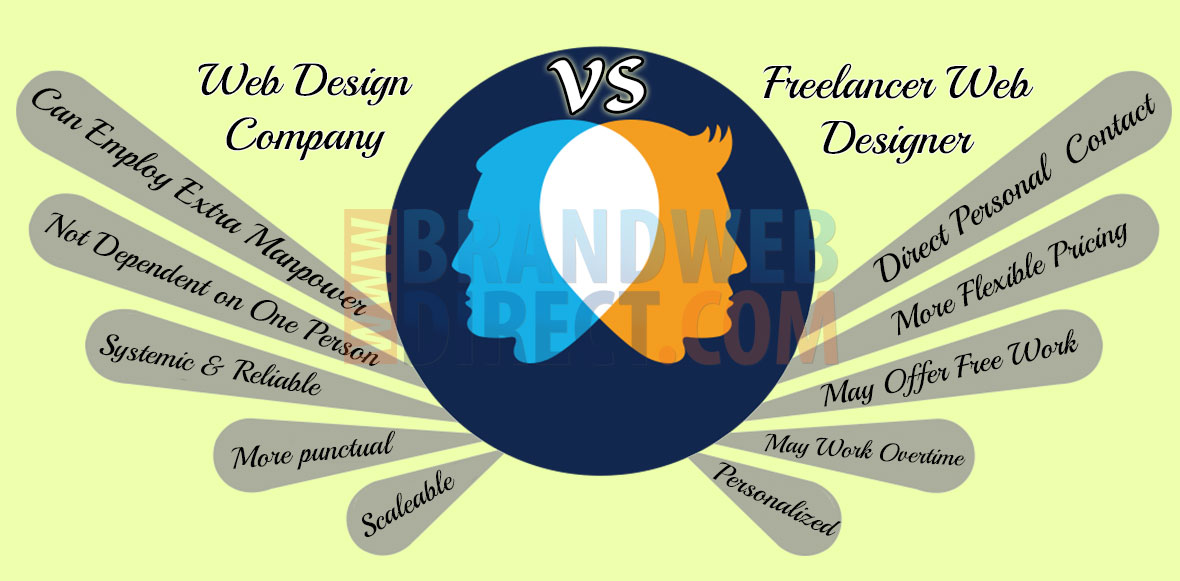 We often are tempted with this question about a freelancer and a company particularly in relation to website design and development.
First lets understand who is a freelance web designer. A freelance web designer is a person who has learnt the process of designing a website. A freelance web developer is a person who know the programming related to website development. There are several freelance web designer and developer who know both these activities.
Web design company is a company which employs web designers and web developers for the purpose of designing and developing a website. Depending on the size of the company it may employ lot of people for this purpose and this would result in greater competitiveness and greater collection of skills.
Related Article: Web Agency Skills to Master
ADVANTAGES OF FREELANCE WEB DESIGNER :
1. He is one point of contact and may be able to provide dedicated support.
2. He may be easy to access round the clock since his personal contact details may be available.
3. He may not mind working over time to get the work done faster.
4. He has flexibility with regards to pricing and payment terms.
5. He may often offer some extra free stuff if he pleases to.
6. He may put extra effort compared to the payment received.
ADVANTAGES OF WEB DESIGN COMPANY:
1. Systemic and organised
2. More reliable and trust worthy
3. Can speed up work by employing more man power.
4. More punctual
5. Do not depend on individual man power so you can work for longer term with them
6. Have larger number of skills since have a greater number of people skilled in many more things.
7. Scaleable : If your work increases then the company may increase the number of people forking on your project to meet your demand.
8. Designing, developing and testing persons are usually different so the output is much better and not dependent on single brain
9. You get more number of experts under same banner and these experts can combine their skills too leading to better output.
10. Additional expert skills are available like marketing : SEO, SMO, Adwords, SMM etc
11. The prices always follow a system and you are billed genuinely.
DISADVANTAGES OF FREELANCE DESIGNER :
1. He may have limited skills and may not be able to deliver up to your expectations.
2. He may be excellent at one aspect while may be very weak on another.
3. He is a one man show, so he has to do everything including his own promotion, accounts, your work etc thus he is over burdened so your work may suffer.
4. Excessive dependency on single man power. If he falls sick then your work is held up.
5. If the freelancer gets a good job then you may lose him altogether and your project may die.
6. Freelancer may try to get as much money from you as possible.
We are not pointing to any particular freelancer. These are general possibilities. There are freelancers who have been working for years with good trust too and they have created a group of other freelancers to support them in the skills that they lack. Still in general I would say that its much better to work with a company compared to a freelancer.
If you are looking to outsource your work to an offshore web design company then you may consider JobHouse Web Services as one of them.
You will get lot more services under one roof like SEO, digital marketing etc.
There is an extensive portfolio on the website for you to go through.
We have very strong customer service and much better than any freelancer can offer.
We have a fantastic infrastructure and team to bring your dreams to reality.
We believe in 100% customer satisfaction and have been in the industry since very long.
Source: Brand Web Direct
Recommended Posts
Required extension GD is not loaded.
November 12, 2019
Required extension GD is not loaded.
March 20, 2019
Required extension GD is not loaded.
February 6, 2019