---
What are content marketing and social media marketing and their difference?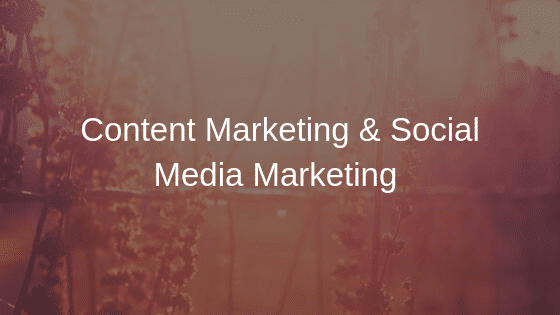 Content is a very important part of a website or a brand. Content is generated keeping in mind to attract audiences, engage them and convert them into customers. The content must be convincing enough to pull the audience interest and focus on the conversion to make the profit.
Content involves:
Newsletters & News Feeds
White Paper & reports
E-book
Infographics
Case Studies
Tutorials
Photographs
Blogs
Content marketing focuses on generating traffic on demand. Once people gain trust through social media marketing, they visit the site which must be rich in authentic content that can engage the audience and convert them. Content marketing provides an option for the brand to publish long text, videos etc about the brand that give the audience a deep understanding of the brand and services. Its shown that content marketing has more conversion rate than social media marketing.
Social Media Marketing
Social Media Marketing is used to promote a brand in the audience. It uses content to generate awareness on the brand and channel customers to the brand website to generate leads and help in getting conversions. Social media marketing focuses on building trust among the audience on the brand as social media platforms offer a space to directly communicate with customers, understand their interest, grievances and search behaviour etc.
Social media marketing focuses on generating content for the platform and publish it on the same. Twitter use the content of 140 character length, Instagram uses images and tiny videos and Facebook uses images and videos with the small text description. Social media marketing is used at the initial stage of brand marketing mainly to generate brand awareness and trust.
Social media marketing has taken a step back compared to content marketing which is the new way to attract more audience.
To implement highly efficient marketing strategies like content marketing and social media marketing, you require the help of a pioneer JobHouse Web Services.
Recommended Posts
Required extension GD is not loaded.
March 19, 2020
Required extension GD is not loaded.
February 26, 2020
Required extension GD is not loaded.