Domain Registration in Ghana
Register .com.gh, .edu.gh, .org.gh, .com, .net and more in Ghana!
Please enter your domain.
Please verify that you are not a robot.
| | | | | |
| --- | --- | --- | --- | --- |
| TLD | Years | Register | Transfer | Renew |
| .com | 1 | GHC 70 | GHC 70 | GHC 80 |
| .org | 1 |  GHC 90 | GHC 80 | GHC 90 |
| .net | 1 |  GHC 90 | GHC 80 | GHC 90 |
| .com.gh | 1 |  GHC 320 | GHC 300 | GHC 300 |
| .edu.gh | 1 |  GHC 320 | GHC 300 | GHC 300 |
| .org.gh | 1 |  GHC 320 | GHC 300 | GHC 300 |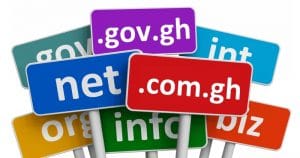 What is a Domain Name?
According to Wikipedia, a domain name is an identification string that defines a realm of administrative autonomy, authority or control within the Internet. Domain names are used in various networking contexts and for application-specific naming and addressing purposes.
In simple terms, a domain name is like the address of your business or house. The website is the building itself. You've got it right?
Benefits of Registering a Domain Name
When you register domain name in Ghana with your business name and extension that matches the concept of your business, you are drawing more customers to your business.
It can also help create awareness for your brand and makes it easier for your customers to remember and then return when they are looking for products and services that you sell.
JobHouse Web Services is one of the oldest domain registration companies in Ghana offering cheap domain in Ghana cedis without any added fees. In addition, our platform is user-friendly and makes it easier for you to set up your domain name. You can also speak to help desk or send us a support ticket and we will assist you promptly.
Domain Extensions and Guidelines
We register a range of top-level domains (TLDs) including generic TLDs (gTLDs) such as .com, .net, .org, .info, .biz, .name and country code top-level domains like (.*).gh, .us, .in, .eu, .uk, .za. Domain registration with us is easy, quick, and affordable — direct access to the Domain Registry through our partners enables us register domain names at the best pricing, and within the fastest provisioning times possible.
Guidelines for .com.gh Domain Registration (Domain Hosting)
These guidelines are from (Ghana) National Informatics Centre (NIC). It is the organization in charge of regulation of country domains such as .com.gh, .gov.gh, .edu.gh etc.
Domains will generally be registered under these sub-domains:

com.gh i.e. your-company.com.gh
edu.gh i.e. school.edu.gh
org.gh i.e. organization.org.gh

Company should have been registered in Ghana. Company registration details will be required to complete registration.

If registering a domain name on behalf of a school/academic institution, an authorization letter will be required from the school.

The domain administrator must be located in Ghana and the company of the domain administrator should have been registered in Ghana.
The domain should be more than three (3) characters. Eg. kuku.com.gh. Exceptions are .edu.gh domains for school or academic institutions. Eg. ug.edu.gh
Domain name should be active within six (6) months after registration.
Buying Domain Name with Mobile Money in Ghana
Mobile Money (mobile wallet) has become an important means of paying and receiving money in Ghana. At JWS we are committed to making things easier for our customers. We accept mobile money payments from all operators in Ghana; MTN, Airtel-Tigo and Vodafone.
We also accept debit card / credit card payment options such as Visa, MasterCard, and more. Feel free and register your domain today!
Please enter your domain.
Please verify that you are not a robot.